Tamborine Getaway Day Spa Treatments
Massage
Relaxation or Remedial Massage
60 min $100 | 90 min $140
Light to medium pressure will soothe aches and pains, leaving you feeling blissful and relaxed. A deeper style of massage is applied to heal and revitalise muscles to help release tension and pain.
Hot Stone Massage
60 min $115 | 90 min $155
Soothing basalt rocks are used during the massage to warm the muscles, melting away tension for a luxuriously relaxing treatment.
Aromatherapy Massage
60 min $115 | 90 min $155
Aromatherapy essential oils are blended into massage to promote healing and a feeling of well being and relaxation with dry skin brushing.
Pregnancy Massage
60 min $100 | 90 min $140
Using cold pressed plant oils, we will create a massage treatment to support and nurture your body through this transformative miraculous change.
Waterlily Facials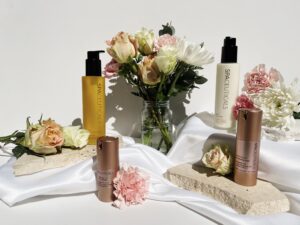 Mini Facial
30mins $70
A cosmeceutical pick me up harnessing pure aromaceutical concentrates with premium dilutions of active botanical extracts, vitamins and omega rich infusions to deliver a firmer and more luminous complexion.
Waterlily Signature Facial
60mins $110
An exquisite ritual of cell regenerating naturopathic actives to clarify and nourish the complexion with lashings of anti-aging vitamins and precious oils for the ultimate repair boost leaving the skin replenished, radiant and dewy soft.

Rose Quartz Performance Spa Facial
60 mins $120
A luxurious anti-ageing performance Spa Facial targeting firmness, lines and wrinkles. The Rose Quartz Spa Facial is an exquisite treatment nurtured with clinical cosmeceuticals, crushed quartz and crystal essence to deliver a complete age proofing skin solution to intensify transformation at a cellular level.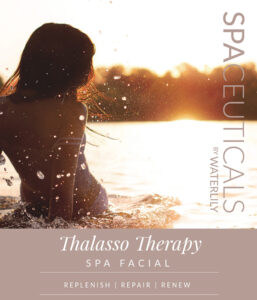 Thalasso Therapy Performance Spa Facial
60mins $120
A deeply replenishing skin treatment harnessing the Power of the Sea. Refines, smooths and decongests the complexion to redefine texture while replenishing hydration and combating dryness. Strengthens collagen and enhances healing repair to help with pitting, scarring, blemishes and wrinkles. A super concentrate solution of essential minerals and trace elements extracted from pristine Australian ocean water boosted with kelp, spirulina, and marine collagen to enhance and repair cell function to deliver a luminous, firm and clear complexion.
Manicures and Pedicures
Barefoot Botanical Indulgence
60mins $110
A detoxifying and drawing pure botanical foot treatment to relieve stress and tension. Indulge in a foot soak whilst enjoying the massage component of our spa pedicure chairs. Feet are treated with a bamboo and pineapple exfoliation followed by a stimulating French clay masque. Indulge in a rich spearmint and ginkgo foot treatment to strengthen skin function and condition nails and cuticles. Toe nails will be buffed, filed and polished to pedicure perfection.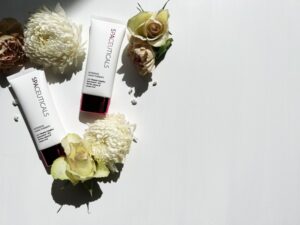 Moroccan Rose Hand Treatment
60mins $110
Replenish beautiful hands and nails with a raspberry and walnut smoothing exfoliation. Your finger nails will be gently buffed and filed to your desired length and shape. A rejuvenating hand massage is infused with a cocoa butter and French clay masque. This luxurious treatment is finished with an exotic moisture boost rich in guava, Moroccan rose and vitamins. Your nails are then painted to the colour of your choice.
Body Treatments
Lush Lemongrass Salt Glow
60 min $115 | 90 min $155*
Full body massage and salt exfoliation with an aromatic infusion of cold pressed oils and lush lemongrass. Finish with a moisture locking Shea & Cocoa butter hydration.
Land of Milk and Honey
(Sugar Glow) 60 min $125 | 90 min $160*
Escape through the senses with a luxurious fresh coconut milk then renew and revitalize dry skin with crushed sugar and an exotic blend of oils. A luscious body butter finishes your skin to polished perfection.
Pure Fiji Exotic Skin Renewal
(Coconut Lime) 90 mins | $165
Discover the refreshing multi-layered aroma of fresh coconut milk infused with zesty lime and a hint of lime blossom which will have you drifting a way to your island paradise. Hydrate, soothe and tone skin with this thirst-quenching blend to help boost collagen production, remove dry skin cells and brighten skin tone.
Waterlily Body Wraps
105mins $175
This Ritual is an indulgent spa facial for the entire body. Begin with a full body créme and clay exfoliation to smooth and remineralise skin before being cocooned in a wrap steeped in vitamins, precious oils and exquisite botanical extracts.
Purifying Marine – Kelp, Spirulina, Cypress, Lemon, Grapefruit, Blue Clay
or Organic Honey & Cocoa – Honey, Cocoa Butter, Hazelnut, Vanilla Bean, Almond
Waterlily Hand and Foot Pamper Treatment
60 mins $110
An exfoliating enzymatic French clay base with polished walnut smooths and reconditions your skin. A mineral rich clay wraps your hands and feet rich in nutrient botanicals for an intense masque treatment. This luxurious treatment is finished with an exotic moisture boost rich in lime, molten mango, shea and cocoa butters for the ultimate hand and foot rejuvenation ritual.
Mini Makeover
1hr 15mins $105
30min express Manicure or Pedicure
Eye Trio (brow shape, lash and brow tint)
Pure Bliss Package
1hr $110
30min Mini Facial
30min Massage
Pure Bliss Package
2hrs $215
60min Waterlily Spa Performance Facial
60min Full Body Massage
Enhance Yourself
2hrs 30mins $240
Skin consultation
30min Mini Facial
Eye Trio (brow shape, lash and brow tint)
Plus choose 2 of the following enhancements:
Lash lift
Brow lamination
Micro exfoliation
Nail shape and paint of hands and feet
Scalp massage with orange creme hair masque treatment
Island Paradise
2.5hrs $280
A deeply replenishing full body ritual using hot stones and massage to revitalise the muscles. Lashing of honey and coconut sugar will then smooth your skin, followed by a nourishing body butter immersion. This ritual continues with a 60-minute Waterlily Performance Spa Facial of your choice.
Lime Melt
2.5hrs $280
Immerse yourself into a full body massage with volcanic hot stones then melt into a lime body peel rich in antioxidants. Crushed lime sugar infused with exotic oils will smooth your skin and a molten lime butter will deeply nourish to a polished glow. This ritual continues with a 60-minute Waterlily Performance Spa Facial of your choice.
Deluxe Pamper Package
4.5 hour $490
Available at 10am.
This package has 4 rejuvenating hours of treatments as well as relaxation time between treatments to enjoy a gourmet platter and complimentary beverage of either fruit juice or champagne. Combine any 4 of our massage, body treatments, Waterlily facials, manicures and pedicures from our treatment menu to create your own package.